History and memory of the Spanish Civil War in the contemporary Spanish historiography
Historia y memoria de la Guerra Civil en la historiografía española contemporánea
Histoire et mémoire de la guerre civile dans l'historiographie espagnole contemporaine
Democratic historiography of the Spanish Civil War has been built up in opposition to the policy of memory of Franco's dictatorship. It has got, over years of confrontation with "official" historiography, increasingly complicated - questions tied to political violence or the management of memory finally prevailing over a more narrative studies. Nonetheless, the development has been marked by collisions with "war veterans" of the winning camp and their descendants and so with those seeking to write a new history, wicha aims to recover both the memory and the dignity of the defeated. The paper examines this development as well as their relationship with politics and the management of collective memory.
La historiografía de la Guerra Civil española se ha ido construyendo en oposición a las políticas de la memoria de la dictadura franquista. A través de los años y de los enfrentamientos con la historia « oficial », esta historiografía ha evolucionado hacia problemáticas cada vez más complejas, en las que las cuestiones ligadas a la violencia política y a la gestión de la memoria tienen preferencia frente a los estudios más positivistas. Sin embargo, esta evolución no se ha producido sin choques entre algunos « antiguos combatientes » del campo de los vencedores y sus herederos, por una parte, por otra parte aquellos que quieren escribir una historia renovada, que aspiraría a recuperar la memoria y la dignidad de los vencidos. El artículo muestra esta evolución, así como sus relaciones con la política y la memoria colectiva.
L'historiographie démocratique de la guerre civile espagnole s'est construite en opposition à la politique mémorielle de la dictature franquiste. Au fil des années et des confrontations avec l'historiographie « officielle », cette historiographie a évolué vers des problématiques de plus en plus complexes, parmi lesquelles les questions liées à la violence politique et à la gestion de la mémoire ont pris le pas sur les études plus événementielles. Néanmoins, ce renouvellement historiographique ne s'est pas produit sans heurts, que ce soit avec des « anciens combattants » du camp franquiste et leurs héritiers, d'une part, et d'autre part avec ceux qui veulent réécrire une nouvelle version de l'histoire orientée à « récupérer » la dignité et la mémoire des vaincus. L'article montre cette évolution dans ses rapports à la politique et à la gestion de la mémoire collective.
Fichier principal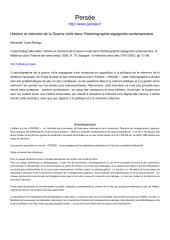 article_mat_0769-3206_2003_num_70_1_402452.pdf (2.55 Mo)
Télécharger le fichier
Origin : Publisher files allowed on an open archive