Construyendo el género más allá de la nación: dimensión nacional e internacional de la movilización de las mujeres antifascistas (1934-1950)
This paper analyses the strategies and genderised discourses that anti-fascist women used in the course of their political action nationally and internationally, from the 1930s until the beginning of the Cold War. To that end the author has examined two women's organisations, one national—the Unión de Mujeres Españolas—and the other international—the Women's International Democratic Federation. An examination of the two organisations shows that action by anti-fascist women operated at two levels: nationally, with women acceding to citizenship in much of Europe, and internationally with these women seeking to influence the reconstruction of post-war Europe. To legitimise their action at either level, these organisations built up complex identities, ranging from a universal gender model based on maternity values to the use of nationalist imagery as a means of mobilising women.
Este trabajo analiza las estrategias y discursos generizados que las mujeres antifascistas emplearon en el marco de su acción política tanto a nivel nacional como internacional, desde los años treinta hasta el comienzo de la guerra fría. Para ello se han estudiado dos organizaciones femeninas, una de ámbito nacional, la Unión de Mujeres Españolas, y otra transnacional, la Federación Democrática Internacional de Mujeres. El estudio de ambas organizaciones pone de manifiesto que las mujeres antifascistas desplegaron su actividad en dos direcciones: en un marco nacional, caracterizado en una buena parte de Europa por el acceso a la ciudadanía femenina, y en un marco internacional, en el que estas mujeres trataron de influir en la reconstrucción de la Europa de posguerra. Para legitimar su acción a ambos niveles estas organizaciones construyeron identidades complejas, entre un modelo de género universal basado en los valores de la maternidad y el recurso a un imaginario nacionalista como instrumento de movilización de las mujeres.
Ce travail analyse les stratégies et les discours genrés employés par les femmes antifascistes dans le cadre de leur activité politique tant sur un plan national qu'international, des années 1930 au début de la guerre froide. Dans ce but, l'étude de deux organisations féminines, l'Unión de Mujeres Españolas et la Fédération démocratique internationale des Femmes, permet de mettre en évidence que les femmes antifascistes déployèrent leurs activités à deux niveaux : dans un cadre national, caractérisé dans une bonne partie de l'Europe par l'accès des femmes à la citoyenneté, et dans un cadre international marqué par l'importance des femmes dans la reconstruction de l'Europe de l'après-guerre. Pour légitimer leur action, ces organisations ont élaboré des identités complexes, oscillant entre un modèle de genre universel basé sur les valeurs de la maternité et le recours à un imaginaire nationaliste comme levier de la mobilisation féminine.
Fichier principal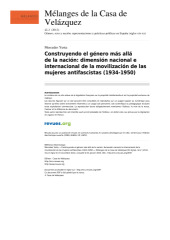 2012-Construyendo-el-genero-mas-alla-de-la-nacion-mcv.pdf (426.24 Ko)
Télécharger le fichier
Origin : Publisher files allowed on an open archive