Sur les Villes Invisibles de Walter Benjamin et Italo Calvino (et les Passages où ils se rencontrent)
From Walter Benjamin's Paris to Berlin, passing by Italo Calvino's "Invisible Cities", the urban space is a place where the literary language unravels its images and their brightness. We can distinguish a dotted, transparent world. This shows us the invisibility hidden in the neutrality and anonymity of everyday life and, at the same time, the "invisibility of the visibility" as said by Michel Foucault. This territory becomes itself a porous space, a transitional one, between imaginary and reality, that shows up when streets and houses, steeples and crossroads appear in the text, which become also signs and emblems, riddles and rebus, without beginning or end, like an invisible filigree that the stroller can try to follow, during a walk along the Rhine or the Seine. Then the possibility appears of a map and its uninhabitable territories, only traveled by roads of language that we follow with the finger. The one who has the map can ask the question: where is that place he dwells? Where is his way, where does he come from and where does he go?
Du Paris et du Berlin de Walter Benjamin aux "Villes invisibles" de Italo Calvino, l'espace urbain est le lieu où le langage littéraire se défait de ses images, de leur éclat, et où se dessine un monde en pointillés, en transparence, autant révélateur d'un invisible tapi dans la neutralité et l'anonymat du quotidien, que de "l'invisibilité du visible", selon la formule de Michel Foucault. Ce territoire devient lui-même un espace poreux, transitoire, entre imaginaire et réel, qui se révèle lorsque surgissent dans le texte rues et maisons, clochetons et carrefours, qui sont à leur tour signes et emblèmes, énigmes et rébus sans commencement et sans fin, dont le flâneur peut tenter de suivre le filigrane invisible, le temps d'une promenade le long du Rhin ou de la Seine. Se dessine alors la possibilité d'une carte et ses territoires inhabitables, seulement parcourue par des routes de langage que l'on peut suivre du doigt. Celui qui tient la carte se pose alors la question: où est cet espace qu'il habite? Quel est son itinéraire, d'où vient-il et où va-t-il ?
Fichier principal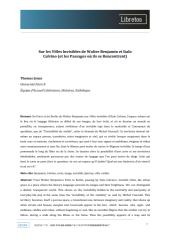 Les villes invisibles.-Thomas-Jonas.pdf (796.67 Ko)
Télécharger le fichier
Origin : Publisher files allowed on an open archive