Le mouvement communiste de Tunisie : un lieu de transgression de l'ordre colonial ? (1939-1956)
From the trajectories of women militants engaged in the Communist Party of Tunisia (PCT) be-tween the beginning of the World War II and the independence of the country, in 1956, this paper examines if and how the communist environment inflects the burdens of the colonial society. Their engagement in favour of this revolutionary party, hunted by the authorities, requires, results and forms desires for change for these women who entered the PCT very young. Space of self-fulfillment of its politic project, the PCT is a space of freedoms lived in acts. Although it allows assignments to be blunted and activists to live subjectivation and identification processes, gender stays an unthought.
À partir des trajectoires de militantes investies au Parti communiste de Tunisie (PCT) entre le début de la Seconde guerre mondiale et l'indépendance, acquise en 1956, cet article évalue la mesure dans laquelle le milieu communiste fonctionne comme un espace d'infléchissement des pesanteurs de la société coloniale. L'investissement en faveur d'un tel parti, révolutionnaire et pourchassé par les autorités, suppose, résulte de, et créé des volontés de changements pour ces femmes investies très jeunes. Lieu d'auto-réalisation de son projet politique, il est l'espace de libertés vécues. Bien qu'il permette que les assignations soient émoussées et que ses militantes vivent de processus d'identification et de subjectivation, le genre demeure un im-pensé.
Fichier principal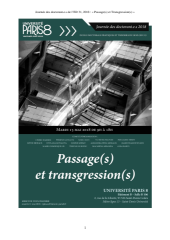 Abassade Elise.pdf (836.27 Ko)
Télécharger le fichier
Origin : Files produced by the author(s)