L'auteurisation : c'est les autres ?
This dialogue is articulated in nine movements around the respective authorisations that each of the two scriptwriters, in his or her practice, has had to face. It is a small and intimate panorama of the relationship to authorisation that moves between theatre, teaching practices, literature, but also research and publication practices. The questions of translation, appropriation and transmission are discussed through various examples. A red thread is woven between the relationship to the graphic act of book covers (Ingold 2011) and the sounds of the written language (Duras, 1995). The signatures and erasures of authors are questioned on the basis of explicit situations. There is unanimous discomfort with plagiarism. However, one point of divergence persists: the place of the other in authorship. This is perhaps where the gap between artistic aims and an anthropological point of view on the graphic act comes through. A way of apprehending the relationship to authorisation that is always highly situated - which is one of its characteristics - is put forward
Auteuriser désigne communément et de manière très ancienne 1 le fait de reconnaître une personne comme auteur ou autrice à part entière, mais également, dans un sens plus réduit, le fait d'attribuer un auteur ou une autrice à une oeuvre. L'ajout du pronom réfléchi « se » dans « s'auteuriser » renvoie à l'individu, qui de lui-même se reconnaît comme auteur ou autrice d'une production écrite. Nous emploierons cette notion de manière plus large comme moment précis, signe visible, où la personne, s'autorisant elle-même à devenir autrice, agit et se constitue ainsi en tant que sujet à travers un acte-ici les actes graphiques-qu'elle endosse ou signe. En agissant, elle se donne à la fois la liberté et le pouvoir de l'action 2. Les questions qui nous ont animés dans ce dialogue sont celles de la signature, de la copie, de l'oralité, de la langue utilisée et du rapport à l'altérité qui se jouent dans différents cas de figure (la traduction, le plagiat, l'anonymat), et qui interrogent à chaque fois le statut d'auteurisation de la personne. S'auteurise-ton par le regard des autres ou est-ce un cheminement personnel intérieur ?
Fichier principal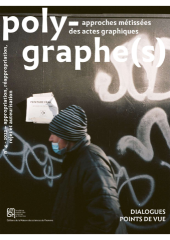 dialogue polygraphesLeroy_Lojo.pdf (924.8 Ko)
Télécharger le fichier
Origin : Explicit agreement for this submission