The Wizard Without Shadow
In this article, the authors share their experience of making a creation-as-research, "The Wizard Without Shadow", in order to bring to light the different steps of staging, the difficulties, and methods that could be applied. This research is based on empirical and analytical methods and aims for a better understanding of the pipeline of a theatrical staging with motion capture, as well as exploration of the nature, limits, and potential of a pre-recorded live-controlled virtual performance. This paper is an extension of The Wizard Without Shadow paper previously published in the ARTECH21 conference.
Dans cet article, les auteurs partagent leur expérience de réalisation d'une recherche-création, "Le Magicien sans ombre", afin de mettre en lumière les différentes étapes de la mise en scène, les difficultés et les méthodes qui pourraient être appliquées. Cette recherche s'appuie sur des méthodes empiriques et analytiques et vise à mieux comprendre le pipeline d'une mise en scène théâtrale avec capture de mouvement, ainsi qu'à explorer la nature, les limites et le potentiel d'une performance virtuelle préenregistrée et contrôlée en direct. Cet article est une extension de l'article The Wizard Without Shadow précédemment publié dans la conférence ARTECH21.
Fichier principal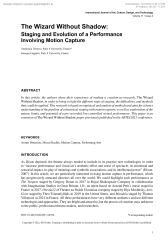 22-IGI-WizardWithoutShadow_final.pdf (715.15 Ko)
Télécharger le fichier
Origin : Files produced by the author(s)
Licence : CC BY NC ND - Attribution - NonCommercial - NoDerivatives