Consider the organization of the working time when the technology changes: the case study of an operational team in a nuclear power plant
Volver a pensar la organización del tiempo de trabajo cuando la tecnología cambia: el caso del equipo de operación de una central nuclear
Penser l'organisation du temps de travail lorsque la technologie change: le cas de l'équipe de travail d'exploitation d'une centrale nucléaire
Pensar a organização do tempo de trabalho quando a tecnologia muda : o caso da equipa operacional de uma central nuclear
The construction of a new generation of nuclear power plant has implied an ergonomics contribution in order to define the shift work schedule for the future operation crew. The study was carried out in three existing nuclear power plants through observation of activities specific to the concerned operating professionals. The data collected highlights major disparities between the performed tasks and their dynamics in terms of physical and mental demands. Furthermore, the same data underlines a strong temporal interdependence amidst the operation crew based on shift work schedules and the maintenance crew organized with set day time schedules. Vast differences are also recorded in terms of physical and mental demands of the tasks performed between day and night shifts as well as between the different stages of nuclear installations. The difficulties of workforce management are also at the source of large differences concerning the theoretical shift work schedule and the shift work schedule in place. In a multifactorial and systemic approach, with the general knowledge of chronobiology and the characteristics of the population involved, the outcomes will be a necessary component to define the shift work schedule for the operation crew of the nuclear power plant in construction.
La previsión de la puesta en marcha de una instalación nuclear de última generación, que está en construcción, suscitó la necesidad de una intervención ergonómica para pensar el diseño de un sistema de trabajo por turnos rotativo 24h/24. Se realizó un estudio, en tres plantas existentes, mediante observaciones de las actividades de los diferentes oficios del personal de operación que aseguran el funcionamiento. Los datos colectados muestran diferencias importantes entre dichos oficios en términos de exigencias físicas y mentales de las tareas efectuadas y de su dinámica. Los resultados revelan además una fuerte interdependencia entre las temporalidades, propias a cada uno de los oficios del personal de operación, sujetos al trabajo por turnos rotativos, con los equipos de trabajo de mantenimiento, sujetos ellos a horarios diurnos fijos. También se observan diferencias importantes según los turnos y el estado de funcionamiento del reactor (en paro o no). La gestión de los recursos humanos aparece también como un elemento que se debe considerar en la organización del tiempo del trabajo ya que puede tener un impacto en los desvíos entre los turnos previstos y los turnos realizados. En un enfoque multifactorial y sistémico, el conjunto de dichos resultados constituyen, junto con los conocimientos generales de la cronobiología y de las características propias de la población del personal de operación, uno de los componentes necesarios para la definición de la organización del tiempo de trabajo de la planta que está en construcción.
La prévision de la mise en place d'une installation nucléaire de nouvelle génération, en cours de construction, a suscité le besoin d'une intervention ergonomique pour la conception d'un système d'horaires postés en continu 24h/24. Dans ce cadre une étude a été menée dans 3 installations existantes, au moyen d'observations des activités propres aux différents métiers qui en assurent le fonctionnement. Les données ainsi recueillies mettent en lumière de grandes différences entre ces métiers sous l'angle des exigences physiques et mentales des tâches effectuées et de leur dynamique. Elles font en même temps ressortir l'impératif d'une forte interdépendance des temporalités propres à chacun des métiers composant les équipes de conduite et de celles-ci, assujetties à des horaires postés, avec les équipes de maintenance qui suivent des horaires diurnes fixes. De fortes différences sont également enregistrées en fonction des quarts et des étapes de fonctionnement des installations. Les aléas de la gestion des effectifs sont aussi la source d'écarts parfois importants entre le roulement théorique et le roulement effectif. Dans une approche multifactorielle et systémique l'ensemble de ces résultats constitueront avec les connaissances générales de la chronobiologie et les caractéristiques propres de la population des agents concernés une des composantes nécessaires à la définition de l'organisation du temps de travail de l'installation en cours de construction.
Fichier principal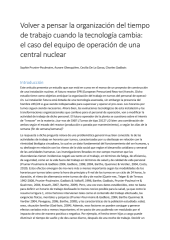 Volver a pensar la organización_hal-01058861.pdf (639.54 Ko)
Télécharger le fichier
Origin : Files produced by the author(s)