Interconnected virtual space and Theater. Influences on acting.
Espace virtuel interconnecté et Théâtre (2). Influences sur le jeu scénique.
The article presents the second step of a practise based research about theatrical acting and avatar direction. It first describes the paradigm shift induced by the move from video medium towards 3D image for transferring scenic presence in virtual space using an inertial motion capture device. It takes a use case for explaining the new approach needed both in acting and direction issues. It ends with a synthese of the achieved results and prospects about new explorations.
L'article expose la suite d'une recherche-création sur le jeu scénique théâtral et la direction d'avatar. Il décrit tout d'abord le changement de paradigme induit par le passage du medium vidéo à l'image en 3D pour transférer une présence scénique dans espace virtuel à l'aide d'un dispositif de capture de mouvement inertiel. Il s'appuie sur un cas d'usage pour expliquer la nouvelle approche nécessaire à la fois en terme de jeu et de direction. Il conclue par l'exposition de perspectives synthétisant les résultats obtenus et exposant une feuille de route des explorations à venir.
Fichier principal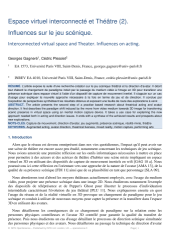 19IDO_GAGNERE_PLESSIET-VFinale.pdf (1.2 Mo)
Télécharger le fichier
19IDO_GAGNERE_PLESSIET-VFinale (1).pdf (1.19 Mo)
Télécharger le fichier
Origin : Files produced by the author(s)
Licence : CC BY NC ND - Attribution - NonCommercial - NoDerivatives